In Israel and Palestine, Speak up focuses on organizing and implementing dialogue seminars in Germany, which are designed and carried out by local partners.
At the same time, historically, Speak up (formerly known as Vacation From War) began as an initiative for children from the Former Yugoslavia – in Israel and Palestine and till 2020 we still selectively supported Summer Games for children.
Kindergartens Kahn Younis / Gaza Strip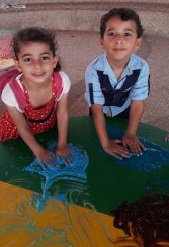 In the Gaza Strip, the situation is constantly very tense. There are regular violent clashes, protests and missile attacks. As often in such fragile political contexts, children in particular suffer especially hard from this situation. In the face of this particular situation, Vacation From War decided to support positive and playful spaces for children in Gaza.

From 2010 till 2020, we supported the annual summer games in the kindergartens of the "Palestine Women's Union" in Khan Younis in the Gaza Strip through the German-Palestinian Women's Association.

You can find more information about the Summer Games in our Annual reports.
Future Generation Hands Association / Nablus, Palestine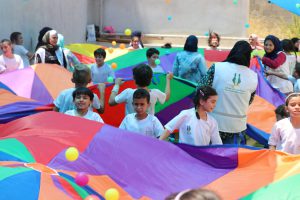 From 2007 to 2018, Vacation From War supported the "Joy & Smile" annual summer games of the Future Generation Hands Association (FGHA). Around 100 children between the ages of 7 and 14 from economically disadvantaged families from Nablus and the surrounding villages took part in the holiday games every year. The summer games lasted two weeks and included not only creative elements such as painting, crafts, dancing and singing but also excursions, for example to the swimming pool or a guided tour of the old town of Nablus. An important aspect of the holiday games was community-building activities where the children learn to work together as a team and support each other.
At our annual evaluation meeting in late 2018, it became clear that FGHA, fortunately, is now so well-endowed financially that it no longer relies on the support of Vacation From War. Furthermore, FGHA's focus has changed: currently, they support families in need from the Nablus area primarily through donating goods such as furniture or food. Since our focus is on dialogue processes and Youth Encounters, the partnership ended in 2018.