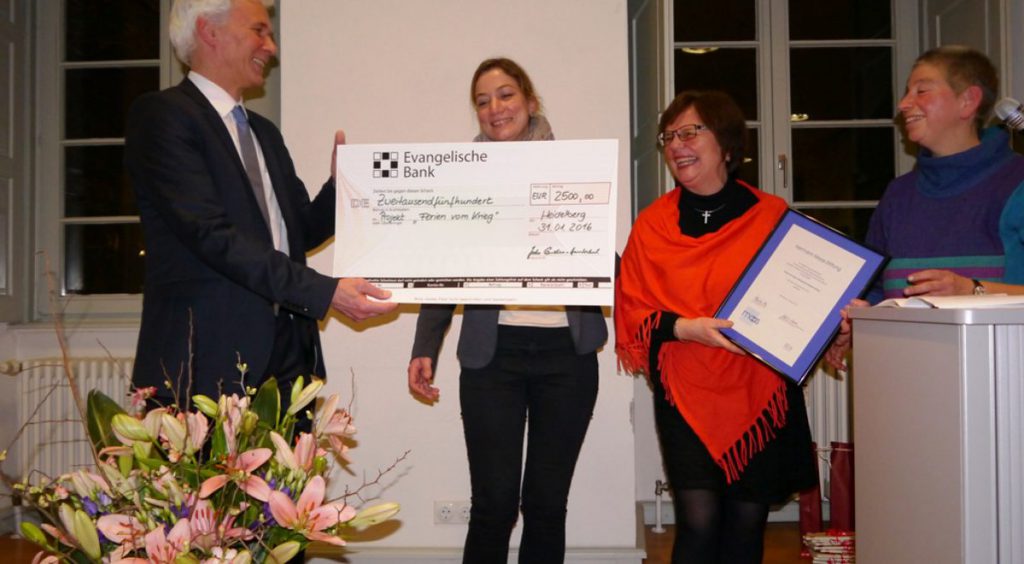 Awards for the Project and its contributors
In January 2016, we were delighted about a special reinforcement of our work. The project Vacation From War was awarded the Hermann Maas Prize of the Protestant Church in Heidelberg in "Recognition its achievements in Promotion of International Understanding". The award was presented by Regional Bishop Jochen Cornelius-Bundschuh and Dean Marlene Schwöbel-Hug.
In December 2016, the employees and many committed participants of our partner organization "Youth United in Peace" from Bosnia-Herzegovina, Serbia and Croatia felt honored to receive the Krunoslav Sukić Prize for promoting Peace, Non-violence and Human Rights in Croatia.
2016 – Krunoslav Sukic Prize (Network "Youth United in Peace")
2016 – Hermann Maas Prize of the Evangelical Church in Heidelberg
2013 – Peter Becker Prize for the Peace Policy of the Committee for Fundamental Rights and Democracy
2011 – 3rd place at the international Anna Lindh Prize
2010 – Julius Rumpf Prize of the Martin Niemöller Foundation
2007 – Erich Mühsam Award
2005 – Panter Price of the newspaper "tageszeitung (taz)"
2003 – Mount Zion Award, Jerusalem
2003 – Stuttgart Peace Prize