Our Partners in Israel and Palestine
Speak up works with partners who are active in Israel as well as in Palestine. Due to the escalating current political situation on the ground and the associated hostility and threats to local organizations and groups working for dialogue between people from Israel and Palestine, we have decided not to mention the names of our partners here. In 2012, team members of one partner organization reflected upon their work:
"We believe that an immediate encounter can bring about a significant change in consciousness. Palestinians, when they meet them face to face for the first time in their lives, tell Israelis their views and the history of their oppression. For the Palestinians, meeting Israelis who are not armed or in uniform – who are not in a position of control or threat to them – is something completely new. The Israelis are also finding themselves in a situation where for the first time they speak to Palestinians as peers in the same spaces and are forced to leave room for history and positions that contradict all their foundations of faith and the justification of their surrounding reality. This is a complex process, one that is often associated with crises."
Our Partners in Croatia, Serbia and Bosnia-Herzegovina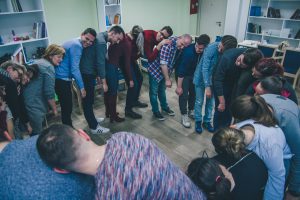 Since many years, we work with the following partner organizations in the three countries of the Former Yugoslavia: the association Prijateljice from Tuzla and the association Sara in Srebrenica in Bosnia-Herzegovina as well as the Youth Center in Gornji Vakuf-Uskoplje; In Vukovar, Croatia we work with the association "Our House Europe" and in Sombor (Serbia) our partner organization is "LINK". In the summer of 2014, our partner organizations collectively founded the network "Youth United in Peace" to further promote the cooperation across borders and make it more visible. In December 2016, only two years later, YU-Peace was awarded the "Krunoslav Sukic Prize" by the "Center for Peace, Non-Violence and Human Rights" in Osiijek, Croatia.